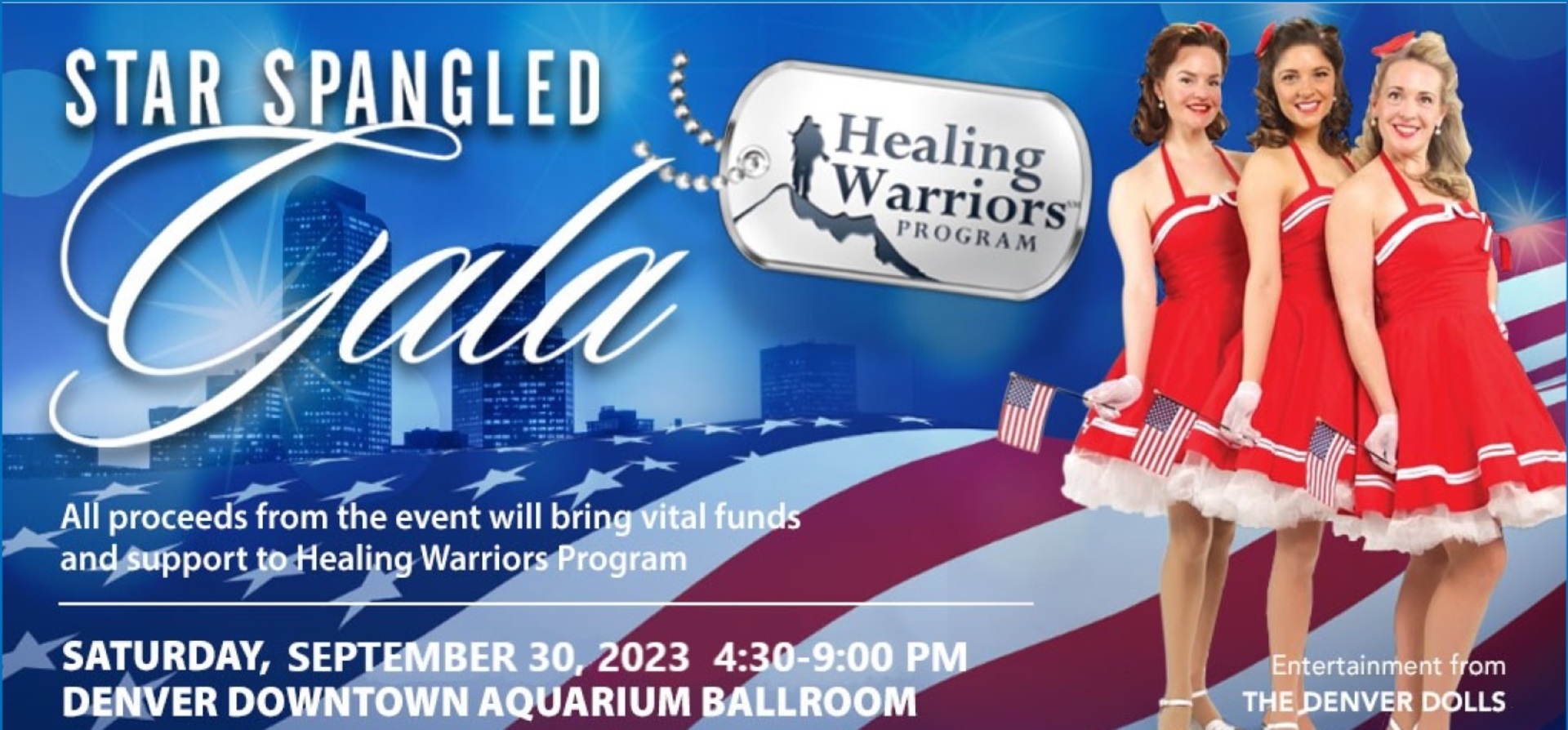 Healing Warriors Program Annual Star Spangled Gala
Saturday, September 30, 2023
Denver Aquarium Nautilus Ballroom
700 Water Street, Denver, CO 80211

Attire: Cocktail
Tickets
Description

Join us for an evening celebrating our Veterans at the Denver Downtown Aquarium's Nautilus Ballroom! Enjoy a VIP visit and photo opportunity with the Aquarium's Animal Ambassadors, and tour the beautiful Aquarium exhibits!

Start with delicious appetizers in the fabulous Dive Lounge, partake in our signature cocktail in a beautiful light up glass, then feast on a full-course dinner in the Nautilus ballroom, complete with wine pairings. Bid on our fantastic Silent Auction offerings, and enjoy the fun of our famous dessert auction with our Master of Ceremonies Ken Clark from Colorado's Own Channel 2, and be entertained by the amazing Vintage Tribute group, the Denver Dolls. All proceeds from this fun evening go towards supporting the Healing Warriors Program NO COST clinics in Fort Collins, Denver, Colorado Springs and Longmont.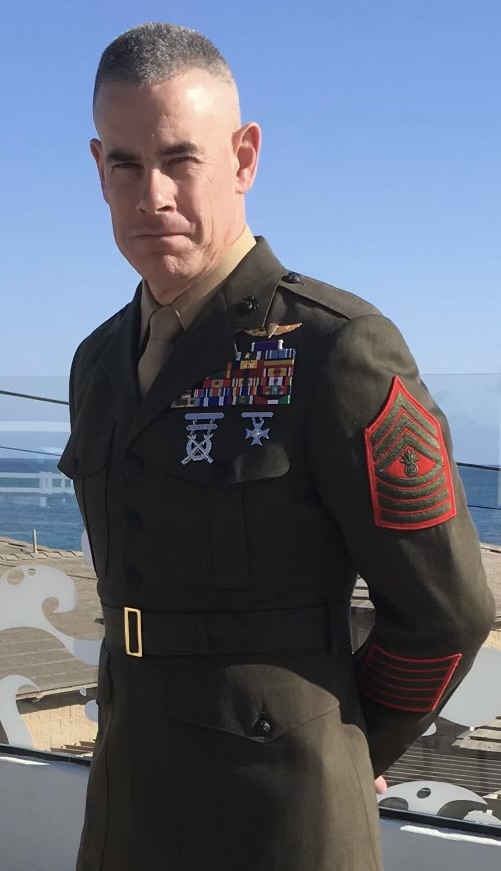 KEYNOTE SPEAKER: Brian Ivers, Master Gunnery Sgt (Ret) Brian enlisted in the Marines in 1989, shortly after moving to America from Australia as a college student and became an American citizen when he transitioned to active duty in 1993.

During his 27-year career with the Marines, MGySg Ivers served 10 deployments worldwide, some of which included Afghanistan and Iraq, and seven occurring after the tragic events of 9/11. His exceptional contributions earned him the Meritorious Service Medal for his work as the operations chief of a Special Purpose Marine Air-Ground Task Force in Kuwait. His courage and sacrifice in the face of adversity also earned him the Purple Heart. After retiring from the Marines in 2021, he continued his service on the Fort Collins police force. MGySg Ivers has always, and will continue to, embody the spirit of resilience, dedication, and commitment to protecting our nation. We are thrilled to have him here to share more of his story.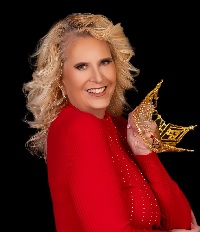 GUEST SPEAKER: Cathy Howell, a military spouse, Department of the Army Civilian (32 years), and mother of 4 adult children; and 3 doggies. Cathy proudly wears the title All American International Queen 2023.Her platform is "Operation Leave No Military Behind" and she has been taking care of military members and their families for 32 years. As an Army Civilian she volunteered to deploy to Afghanistan for a year providing Force Protection. Both she and her husband, a 28 year retired Army Veteran, still work on Fort Carson.

The Healing Warriors Program Mission is: Suicide Prevention through free integrative non-narcotic treatments for PTSD, TBI, Interpersonal Trauma, Sleep Disorders and Chronic Pain. We serve Veterans, from any era and any branch of service. We also serve disabled and homeless veterans, Active duty troops, reservists, National Guard and the spouses/partners and parents of our service members. Healing Warriors Program operates in Fort Collins, as well as free monthly Pop Up Clinics in Longmont, Denver, Colorado Springs and Buckley AFB for our active duty personnel, and have provided over 40,000 treatments. Our client demographics show that we have treated service member families from 21 states in addition to Colorado. We are a 501(c)3 Non Profit, Registered VA Vendor and Platinum Guidestar Charity.
Sponsored By: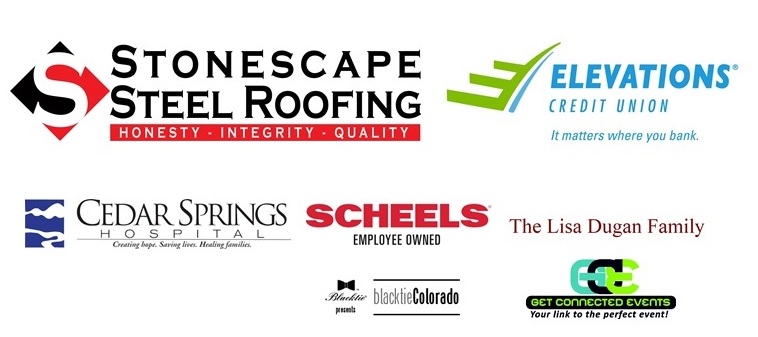 About Us
Healing Warrior Program
The Healing Warriors Program: Suicide Prevention through integrative non-narcotic treatments for PTSD, TBI, Interpersonal Trauma, Sleep Disorders and Chronic Pain at NO COST. We serve Veterans, from any era and any branch of service. We also serve disabled and homeless veterans, Active duty troops, reservists, National Guard and the spouses/partners and parents of our service members. Expanded programs include Cancer Support, Pre/Post Surgical Care, (WPCP) Wellness Preventative Care Program for 60+ clients, Detox, Immune Support, Grief, Anger and more. Healing Warriors Program operates a full clinic in Fort Collins, Colorado, providing care for VA and non-VA patients and veteran families, as well as NO COST walk in monthly Pop Up Clinics in Longmont, Denver, Colorado Springs and Yellow Ribbon events for our active duty personnel, and have provided over 40,000 treatment sessions since opening our doors in June, 2013.. serving not only Colorado but also service member families from 21 additional states. Our Mission and role is to lessen the factors that lead to veteran suicides. We do this by providing integrative treatment care, home self-care tools, gun locks, gun safes, Telehealth, Care packages, and Client Care navigation services to assist in connecting our veterans with community resources and counseling services, all at NO COST. We solve problems together as a community, and our fundraising events focus on education, awareness and removing barriers for our veteran families in obtaining care. HWP is a 501(c)3 Non-Profit organization, a Registered VA Vendor, and a Platinum Guidestar Charity
The Venue
Denver Aquarium Nautilus Ballroom
700 Water Street, Denver, CO 80211
Notify Me
Notify Me When An Event I Like Is Added to the Calendar-
click here
Edit My Notification Preferences -
click here
Sponsored by
Stonescape Steel Roofing, Elevations Credit Union, Cedar Springs Hospital, Scheels, Lisa Dugan Family, Get Connected Events and Blacktie Colorado/Spotlight Colorado