Much has been written lately about Tim Jackson's professional achievements at the Colorado Automobile Dealers Association. But what do you know about the man personally?
With apologies to Journey, "just a small town boy"…. That's where Tim Jackson got his start.
Specifically, Hamilton Missouri, a town of about 1600. As Tim jokes, the other famous person from Hamilton was …… JC Penney. From Hamilton to Denver has been quite a journey. A path he didn't foresee but wouldn't trade.
Tim started his first business in high school, and no surprise, it had to do with automobiles. His dad and a friend bought a building, who had a son that was Tim's best friend. They set up a car auto service with buffing and cleaning. The business was so successful that he bought his friend out after one year.
He also started dating his wife in high school. They will have been married for 47 years this year.
After graduating high school, he decided that association management was interesting, and he attended certificate programs at Florida State University in Tallahassee and the University of Texas in Austin (not at the same time!)
Over the years, Tim has been active with and led a number of organizations; The Jaycees (both State and National and Missouri Police Chiefs Association to name a few.
In 1997, Tim was finishing up his 3 year term as Executive Vice President of the National Jaycees in Tulsa. Through a friend he heard that there was an opening for the National Federation of Independent Business (NFIB). Before that interview he had scheduled interviews with other organizations as well, and after interviewing in Denver, he drove to Kansas City, Philadelphia, Columbus and Washington, DC. DC offered him a job at the same time that NFIB in Denver called again for a second interview. So he drove back to Denver.
He asked 20 friends their advice on DC or Denver, and they were all unanimous – Denver. So Denver it is and was. His favorite part of NFIB (and CADA) was driving all over the state and doing presentations. His assistant knew how long it would take to get to Alamosa, and then Monte Vista and Durango. He has travelled to and has good memories from every nook and cranny of the state.
Because of Tim's Involvement with CSAE (Colorado Society of Association Executives – where he served as President in 2001) he was acquainted with Bill Barrow – the President of the Colorado Automobile Dealers Association. Bill told him that he would be retiring in 2004 and wanted to know if Tim might be interested in that position. He was, and the rest, as they is history.
Tim has seen a lot of things in the automobile world, but he is really excited about EV's (Electric Vehicles). He is an ambassador for them. He has owned 3 or 4 and has a couple now. Sitting with him, his enthusiasm shows through as does his knowledge of the major manufacturers, their plans and their stock prices.
In his spare time?
Tim is active on Twitter and his twitter page is powered by Red Bull.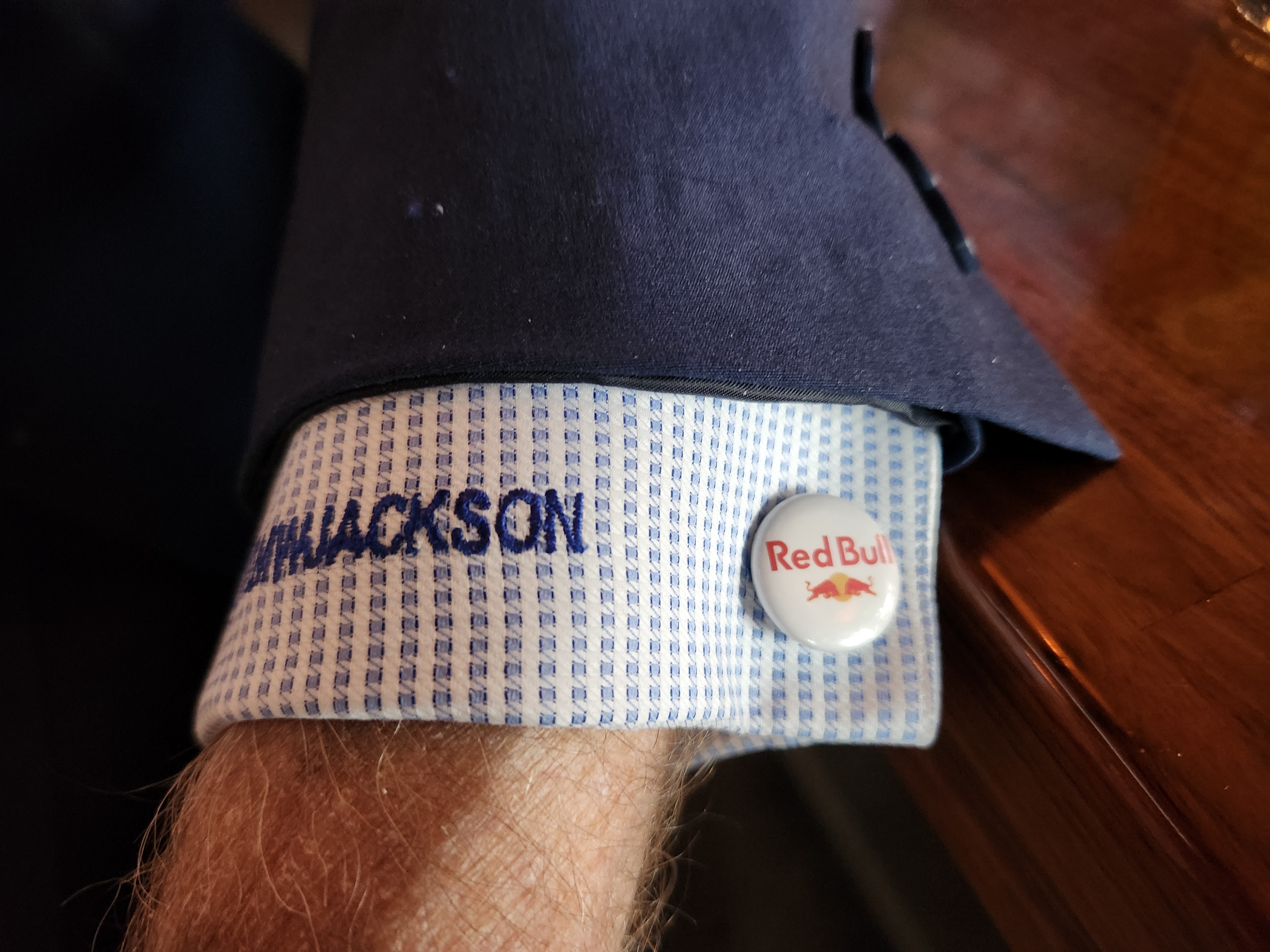 An unusual hobby for Tim is to be the first customer at restaurants; including Racines, Blanco, Culinary Dropout and probably 20 some others. I took a signed dollar bill to Racines on Monday May 10th, 2004 I gave them the dollar bill. Lee Goodfriend still had it when the decision was made to close the restaurant. "I miss that place", says Tim.
A more physically demanding hobby is cycling. Tim got interested in cycling through lobbyists at the State Capitol who saw I was putting around town on a mountain bike. One lobbyist (Bill Imig) told me I should sign up for Ride the Rockies. I didn't even own a road bike when I signed up. But now I have completed 16 Ride the Rockies.
Keep your eyes peeled. You are sure to see Tim continue to play an active role in Denver life.
What's always in your refrigerator?
Red Bull
Favorite movie?
Bohemian Rhapsody
What do you like to do with free time?
Read
Hobbies?
Cycling
What trait do you most despise in others?
Political intransigence
In yourself?
Overly patient
Favorite vacation spot?
Key West
What are you looking forward to or planning?
Traveling entire country in RV
Who are your heroes?
Ronald Reagan
Favorite or treasured possession?
Electric Vehicle – Kia EV6
Any regrets?
Having not started writing book on auto industry at least 10 years ago.
Motto?
Failing to plan = Planning to fail
What talent would you like to have that you don't?
Play guitar
If you were to die and come back as a person or thing, what would it be?
Hubble Space Telescope
Favorite car you have owned?
Ford Mustang Mach E EV
Car(s) you look forward to owning?
Cadillac Lyriq EV
Chevrolet Corvette EV
Ram 1500 REV
Book in progress:
Dude, where's my flying car?